advertisements

Here are some of the top methods to get cracked apps on iOS 9 devices such as iPhone 6S Plus, iPhone 6S, iPhone 6, iPad Air, iPad mini, iPod Touch and others. Whether you own an iOS device with or without jailbreak, these methods are able to provide you cracked apps and games. You don't need advanced computer knowledge to use these techniques because they are so simple to be used. Follow the step by step instructions here and you can learn to install cracked apps and games within half an hour.
iOS 9 Cracked Apps Without Jailbreak
There are at least three ways to install paid apps for free on an iOS 9 device without jailbreak, they are:
vShare iOS 9: vShare is by far one of the most wanted apps. It works on both jailbreak and non-jailbreak iOS devices. It is very similar to Apptrackr. The jailbreak version has more apps compared to the non-jailbreak version. Apple users who have used vShare before nominated vShare as the best Installous alternatives. What do you say then?
Kuaiyong iOS 9: Kuaiyong is perfect for Apple users who want to download paid apps and games for free. Originally, it is only available in Chinese version but now Kuaiyong English version is already released. Among all the websites that provide cracked apps, Kuaiyong is one of the best because it works without jailbreak.
AppCake iOS 9: AppCake iOS 9 works like App Store. You can search, browse, and install your desired app from AppCake website. The only thing is that you don't have to pay a single penny. AppCake provides all kinds of iOS apps and games from A to Z for free. Worth to give it a try since it works on iOS 9 devices without jailbreak. For jailbreak users, see AppCake and follow the guide to install it from Cydia.
iOS 9 Cracked Apps With Jailbreak
Things work easier if you already jailbreak your iOS 9 devices because you can get thousands of apps, games, ringtone, wallpaper, theme and almost everything you need from Cydia.
iFunBox: iFunBox works like iTunes and it hosts many awesome tweaks for iOS devices. Other than giving you free apps and games, you can also use it as an alternative to iTunes. You can use iFunBox to backup, restore and update your iOS device with a PC or Mac. Again, iFunBox itself is a free progam too.
AppAddict: AppAddict serves millions of iOS users around the world. It is free to be used and it has a huge number of cracked apps and games. To install AppAddict, you can add AppAddict repo to your Cydia. Other than iOS 9, AppAddict also work on iOS 8 as well as iOS 7.1.2. See AppAddict for Android if you are using Android phones or tablets.
HipStore iOS 9: HipStore is developed by a developer living in Vietnam. Although this app is originally from Far East, it has a lot of things that Apple users need. To install HipStore, you will first need to download AppSync to your iOS 9 device and then add HeaveniPhone repo to your Cydia.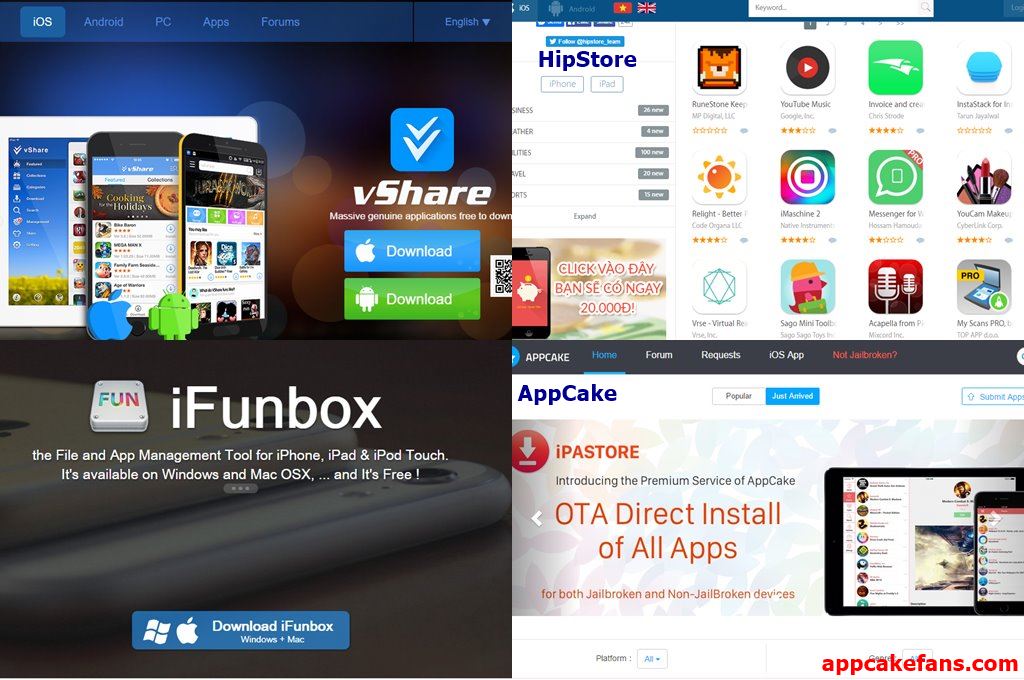 Cracked apps is an intrinsic part of Apple users. This is because cracked apps allow you to try an iOS app or game before buying it. It doesn't means you can rob too. We still strongly recommend you to buy it after trying it. Leave a message if you have something to say.
advertisements