advertisements

You may be looking for apps that make money for you. Today we are going to share a few amazing Android apps that pay you. Yes, Android apps that pay you! We know that normally you pay to use Android apps but now there are some Android apps out there that actually pay its users when they use it. It's really as simple as that!
Here are the best of Android apps that pay you, an easy way to make money. You only need an Android device, and then you can start to download from the list of Android apps just a few minutes with each app and earn money that make you delighted. If you are a new Android user there are plenty of great apps available try AppAddict for Android is completely free to download.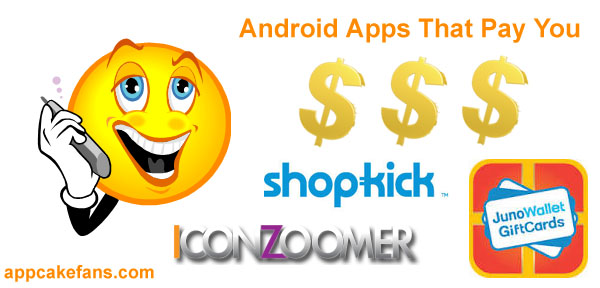 Earn Money
Earn Money is one of the most popular Android apps that pay you while you use it. You can earn money on phone straight from you Android device. You can download and register free, watch ads, complete surveys to earn coins, converted money into dollars and get paid into your PayPal account wherever you are.
JunoWallet
JunoWallet is another alternative app that pay you just like Earn Money. You have to play games, watch ads, complete surveys and invite your friends to join JunoWallet and earn a diversity of rewards and extra.
Mintcoins
Try Mintcoins if you want to make a good buck. It is a fantastic Android app that earns you extra money as easy as you can. Mintcoins is the first choice if your hobby is to watch YouTube. This is another way to make money and receive payment minimum $1 via PayPal. If you are someone who can't live without YouTube, Mintcoins is a must-try app for you.
AppTrailers
AppTrailers is all about apps as you are watching movie trailers. What you are waiting for? Watch App Trailers to preview apps, earn points, sharing your opinions and get direct gift cards.
Tapporo
Appreciate your earning with Tapporo. Watching videos, downloading free apps, earn coins and redeemed your rewards. You can share an experience with your friends.
Some awesome apps you might be interested: Approb, Kuaiyong, and Appdroid.
Whaff
It's a cool way to earn free things. Whaff is easy and quick earning with the best reward app, get cash via PayPal or gift cards. We recommend this app for you.
CheckPoints
Easy points and easy earn money. Checkpoints a convenience store online you can invite friends to join. Shopping, scanning barcode and get cash back for rewards from Amazon, gift cards and more.
Shopkick
Shopaholics! Are you ready for Shopkick? Earn money by shopping with Shopkick. Scanning barcode of the product you choose and earn money the same as CheckPoints. The more you have get purchase the more you will enjoy this app that pay you.
Phewtick
Another app that allows you to relax but also to generate extra money for you. Download Phewtick on your Android phone. Meet up with new people, scans QR code, earn points and cash out. A great way to earn some extra money.
Iconzoomer
Well, Iconzoomer is one of the great choices for you to take any photos and earn money incredible easy. Just follow the three steps, shoot with your phone, send to Iconzoomer and earn money from you Android phone.
Some other Android related things we believe you don't want to it miss in your life: AppBounty Pays You to Play,  SnapPea, and Logo Quiz Answers.
It's an unbelievable to have all these ultimate Android apps that pay you to earn extra money. You just paying attention on it and we hope you enjoy and working toward for your first payment.
advertisements