advertisements

You are absolutely standing on the right place if you are looking for Logo Quiz answers for Android or iPhone. Most people don't know there are so many logos in this world until they play Logo Quiz on their Android device or iPhone. Do you know how Sennheiser logo looks like? Do you know how does the famous Louis Vuitton logo look like? Nike logo is easy to be recognized but can you identify it instantly among other logos? You might remember Starbucks logo is green but can you distinguish it from others? Logo Quiz is not just a game that tests your knowledge with logo but it is also a game that allows you to know more about logo around the world.
From level 1 to level 16, there are more than 500 logos in Logo Quiz. For those who have downloaded Logo Quiz and want to know the answers, here is a list of answers for each level. On the other hand, if you haven't download Logo Quiz and would like to try out this game, simply head to Google Play Store and get it for your Android. For iOS users, you can download it from Apple App Store.
Logo Quiz Answers Level 1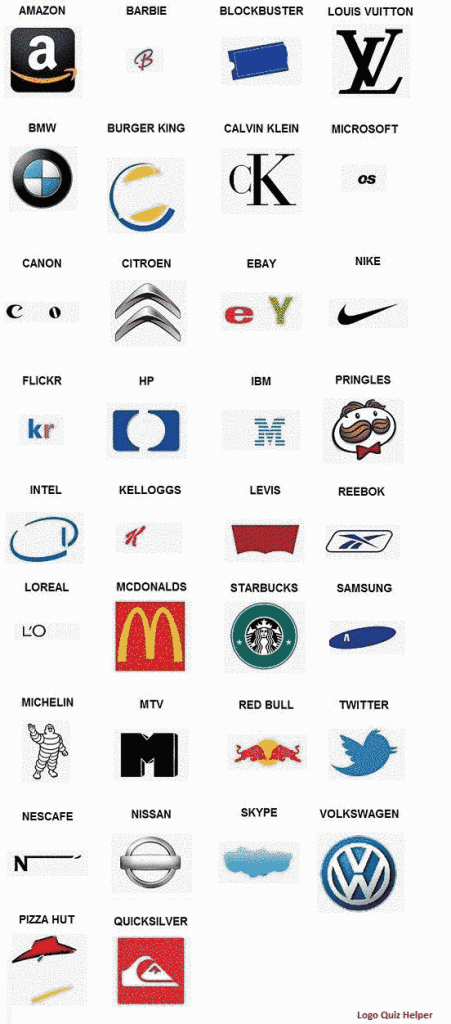 The answers for level 1 is very simple because it contains a lot of famous logo such as Amazon, BMW, Calvin Klein, eBay, Canon, HP, McDonalds, Nescafe, and others. So, it is just a beginning.
Logo Quiz Answers Level 2
The first answer for Logo Quiz level 2 is NIVEA. This stage is still consider easy because it has Coca-cola, Mercedes-Benz, Hello Kitty, NASA, Ferrari, ADOBE, YouTube, Yahoo, and other easy to be recognized logo.
Logo Quiz Answers Level 3
It has become more challenging in level 3 because brands like KNORR, CHEVRON, Napster, Telefonica, MINI, and United Nations can be seen in this level.
Logo Quiz Answers Level 4
Although level 4 is more challenging, you can still see KFC, ROXY, TDK, MG, WIFI, Dolby, Tag Heuer, and other easy to be known logo in this level. To get the answer for the rest of the level, click on the link below and you will see it.
Logo Quiz Answers Level 5 (answers is coming soon)
Logo Quiz Answers Level 6
Logo Quiz Answers Level 7
Logo Quiz Answers Level 8
Logo Quiz Answers Level 9
Logo Quiz Answers Level 10
Logo Quiz Answers Level 11
Logo Quiz Answers Level 12
Logo Quiz Answers Level 13
Logo Quiz Answers Level 14
Logo Quiz Answers Level 15
Logo Quiz Answers Level 16
Not to be missed in your life:
advertisements