advertisements

It is common to see phone users change their smart phone from iPhone to Android phones or from iPad to Android tablets. If you are one of them who have just switched from iOS to Android and have been searching for apps like Installous for Android, the top six apps below are the best recipes for you to gain paid Android apps for free. Although things work differently between iOS and Android, these apps work almost similar to Installous. They support Android users and provide the same thing Installous supplies to iOS users.
Aptoide
Aptoide is widely known as the best place to download free Android apps especially in the U.S. market. Thanks to its extremely easy-to-use installation and super-duper-simple interface, Aptoide frequently ranked no 1 best app to install cracked apps for Android. Aptoide hosts thousands of Android apps and there is almost no downtime on their server. Any Android users can search for any desire apps and download them 24/7 from anywhere they want.
Approb
Approb is an awesome app for Android users to install cracked app and games. With its ability to provide tons of apps to the market, it is no doubt to name it the Installous for Android. Unlike Aptoide, the installation of an app through Approb requires a computer. Users need to download the .APK file of an app and then transfer it to their Android device.
Wandoujia
Wandoujia literally means bowl, beans, and clip in Chinese. It is a formation of a delicious meal – A user, an Android device, and free apps. This China-based Android App Store isn't very big compared to Google Play Store but it is serving more than 200 million Android devices worldwide. Free apps, games, files, media, music, ringtones, wallpaper, and many other things you used to imagine to put into your Android phones can be found in Wandoujia. The only negative thing about Wandoujia is they haven't made it available in English.
Blackmart Alpha or Black Market Alpha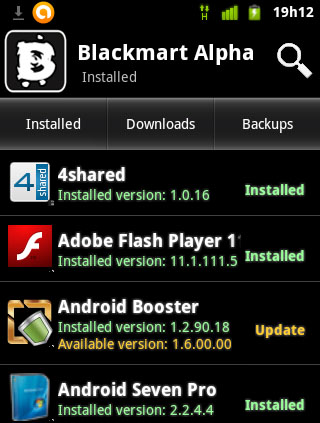 Blackmart Alpha or Black Market Alpha is always recommended as the next best Installous for Android because of it is made available in English. On top of that, almost 60% of apps available in the Google Play Store are available in Black market Alpha and they are ready to download for free. As for the depressing side, Black Market Alpha is not always online because the server is always down compared to Aptoide.
gFan
Not many people in the western countries heard of gFan because of language barrier. However, gFan is yet another amazing Android app that is serving millions of devices every year. Thousands of free apps are available and millions of cool wallpaper are available in HD for free download. Popular Android apps and games like Weixin, Candy Crush Saga, Fruit Ninja, Minion Rush, and Subway Surfers for PC are all available in gFan.
AppChina
Last but not least, AppChina. AppChina provides the latest apps available in the Android App Store to their users for free. The official website of AppChina contains of free apps, games, wallpaper, and ringtones. They can be downloaded online easily and then transfer to an Android device. Instead, users can access to its page and download apps to their Android device directly. Other than popular apps, AppChina also provides Android apps that are not allowed in the Google Play Store. Simply Bravo!
advertisements