advertisements

What is Weixin? Some web definition describe Weixin as the Chinese version of WeChat. In fact, the correct way of saying this should be WeChat is the English version of Weixin because Weixin was founded before WeChat. However, both of them are referring to the same thing. The only difference is the name of the app. Weixin or Wei Xin (??) means micro message in Chinese. It is widely used in China while the name WeChat is commonly used in the rest of the world including United States, Europe, Australia, Japan, Turkey, Malaysia, Korea, Thailand, India, Russia, and other countries in South East Asia.

Weixin
Weixin or WeChat is a free instant messaging software or application that you can use on any computer, PC, Mac, or any mobile device such as iPhone, Android phone, Windows phone, or Blackberry device. Weixin users are able to send text messages, voice messages, image, or video to anyone in their contact whenever they want. Up till today, this instant messaging app has been downloaded by millions of users in around the world since it was first released in January 2011. It is believed that there is at least one text message was sent through Weixin app every minute.
Advantages to Download Weixin
Weixin app allows users to send and receive text messages, voice messages, photos, and share their current location instantly. Users can keep in touch with their friends and family anywhere they want at anytime as long as there is an internet connection. Besides, Weixin also act like a "Friend Finder" app that allows user to look for other Weixin users who are currently online within 1,000 meter radius. This built-in feature uses the GPS function in a mobile phone to share its location if a user allows it. Other than traditional boring text messages, Weixin app has a few default emoticons which are very cute. Lazy users who choose not to type words have the option to use emoticons to express their feeling. Last but not least, the cost to download Weixin is zero. Weixin is free for download and free to use. Years ago, a SMS may cost $0.20 but today you can send unlimited text messages for free. As for iOS users, Weixin is fully compatible with any iOS version including iOS 3, iOS 4, iOS 5, iOS 6 and iOS 7. Never use Weixin before? It is time to download Weixin and try it on your mobile device. You will be surprised that a lot of your friends might be using it.
List of Weixin biggest competitor in the market today: LINE, Kaokao Talk, Hike, Talkbox, Feixin IM (??), and Xiaomi MiTalk.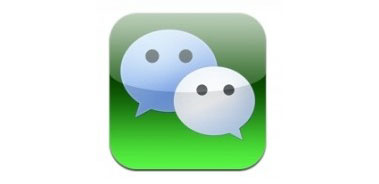 Weixin Logo
How to Use Weixin Web Chat
Weixin web chat is the web version of Weixin where it allows you to use Weixin from your PC through any web browser. For those who want to chat with their friends using Weixin Web Chat or WeChat Web Chat, these are a few delicious steps to follow in order to run Weixin for PC.
Step 1: First of all, open Weixin and tap on "Web WeChat" from your mobile phone. See a green Start button? Click on it to begin.
Step 2: Open a web browser and go to https://web.wechat.com/ and scan the QR code with your smart phone. It works for Android, iOS, and Blackberry. A confirmation will be appeared at your mobile phone. Again, click on the green OK button to continue. Once you have set up Weixin Web Chat, you can access it at anytime you want.
With almost 3 years in the market, Weixin is now one of the most popular mobile apps in the market regardless of Android or iOS. It is a must to download Weixin and try it once in a lifetime. Lastly, you are welcome leave a comment if you have any problem using Weixin Web Chat or simply want to share something related to Weixin.
Updated March 24, 2016: You can now use Weixin (WeChat) to transfer money/fund to other Weixin users. See How to Transfer Money via WeChat (Weixin)
You might want to know Approb, AppCake, and Snappzmarket if you want to download more free apps.
advertisements