advertisements

We believe you have heard about this game. Yes, we are talking about the Clash of Clans. It is one of the best mobile strategy games where you can battle with millions of players worldwide, build your own village or crush enemy clans. Not surprisingly, this game is popular within gamers around the world especially for those who love to fight and defend. When you started to playing this game, you are hard to stop it as well.
No doubt Clash of Clans is one of the top mobile strategy games but there are a few alternatives for those who enjoy playing these kinds of games. Here we have selected the 11 Best Games like Clash of Clans. You can download all the games on your Android smartphone from Google Play Store for free. This may be interested to you: games like Cookie Clicker.
Castle Clash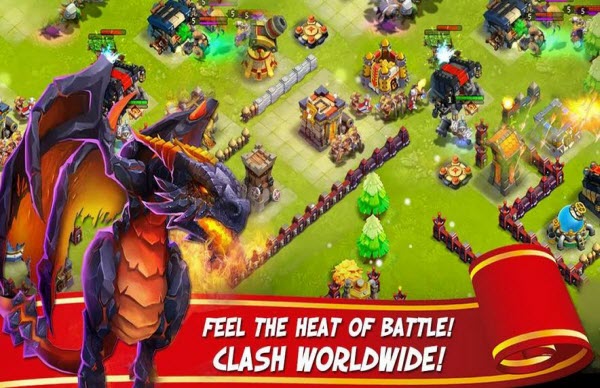 Castle Clash is the most addictive game like Clash of Clans. It makes you feel the heat of battle. Over twenty unique heroes are available to control and command. You can have a realistic battle with your friends worldwide and you can build your powerful empire to fight and become the Warlord. Castle Clash will keep your eyes on the mobile screen and you will absolutely love it.
Price : Free
Requires : Android 2.3 and above. Try Spider-Man Unlimited is one of the best super hero games.
Clash of Lord 2
Are you ready to clash? Clash of Lord 2 is an excited free game to play in real-time command of your heroes' battle skills. There are six battle modes of non-stop action; Master the Lords League, Resource Raids, Solo Campaigns, Hero Arena, Campaign Clash, and Battle Royale to reign supreme. You can enjoy clashing anytime, anywhere and face off against the strongest Lords from across the world. Get extra to sign up free heroes and win free Jewels every day. Do not wait confront into the battle with Clash of Lord 2.
Price : Free
Requires : Android 2.3 and above
Clash of Kings
Clash of Kings is one of the best Android strategy games like Clash of Clans. It comes with fantasy empire graphics. You can build your King's empire, defend your castle, strengthen your empire, large-scale battle and destroy enemies attacking into the world fantasy kingdom. It's free to play in multiplayers online and we recommend you to download this Clash of Kings. This is the best real time strategy game that you can enjoy the battle game in real life on your mobile phone or tablet.
Price : Free
Requires : Android 2.3.3 and above
Boom Beach
Boom Beach is a warfare game with beautiful graphic in paradise islands. Explore a huge tropical archipelago full of danger and treasure. Boom Beach is free to download and play. You can enjoy the spoils of war with more than thousands of players online across the globe. In addition, you can attack hundreds of unique island bases controlled by the evil plans. It's facing the biggest challenge fearful Boss enemies you need courage and fight for the BOOM.
Price : Free
Requires : Android 4.0.3 and above
Clash of Gangs
Clash of Gangs is the fantastic combat strategy game that you can build the great gang, fatal Bosses and military-grade assault Choppers. Begin the combat missions by drive your gang out to clash against gangs from all around the world. If your desire is to become the leader of the gangster, this game is just right for you. At the moment you can fight to become the top of criminal too.
Price : Free
Requires : Android 2.3.3 and above. You may like this Top Five Car Racing Android Games.
Castle Defense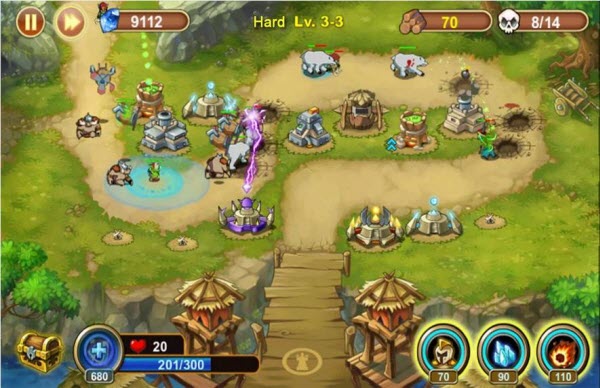 Castle Defense is an excellent arcade Castle Defense game you can build your strong defense and stop the destruction of all the monsters. You can also fight with millions of players worldwide. There are 15 challenging levels of mission mode you can attacking and playing an extraordinary including features; 3 unique warriors including wizard, paladin and barbarian, 4 gorgeous props for you, 12 powerful towers, 15 epic battlefields and face off over twenty monsters and more. Moreover you can get tons of runes to boost your performance and infinite combinations of upgrades.
Price : Free
Requires : Android 2.3 and above
Empire: Rome Rising
Empire: Rome Rising is the perfect strategy game like Clash of Clans without a doubt. You can develop your city and build your powerful empire, train a hero, upgrade their skills thus you can lead your army direct into battle. You can plan to attack and chat with any players from around the world. We hope you will enjoy with the great graphic. Empire: Rome Rising is pleasurable to play.
Price : Free
Requires : Android 2.3 and above
Little Commander – WWII TD
Little Commander – WWII TD is the real battle game in World War II atmosphere. You would love the cartoon style graphic design and the brilliant sound effect. Stand a chance to fight against the enemies, improve your real strategy and become a superior commander. There are 75 levels and more to play, 3 different game modes; Normal, Endless, Single Life.
What's more, you can fight with the real weapons available in World War II but they are in cartoon style: Bazooka, 155mm Cannon, B-29 Bomber, Panzer VI Ausf. E Tiger, Zeppelin Airship. In additional, famous battles in WW II are available too. These include Normandy landings, Battle of Stalingrad, Poland blitzkrieg, Battle of Moscow, Operation Barbarossa, Battle of Berlin and many more. You have to try Little Commander – WWII TD then you'll feel active. This is an effortless game to play and control the war in your hands.
Price : Free
Requires : Android 2.3 and above
Tower Defense®
It is time to discover the original Tower Defense game. Tower Defense is free to play. You stand a chance to embrace your defense and save the future of humanity. There are new features including 4 different game play modes, 9 towers, 10 enemy units, 4 special weapons and 5 different world themes; Mountains, Desert, Ice, Crater, Lava. Get ready to fight with enemies and destroy the bosses on the alien planet. Have fun and enjoy the Tower Defense.
Price : Free
Requires : Android 2.2 and above
Toy Defense – strategy
Toy Defense – strategy is an amazing Defense game. You can have an experience to recreated World War atmosphere. You can battles with nine different enemies, over ninety Thrilling war missions in a variety of worlds. Do not hesitate joint missions and share your enjoyment with friends on Facebook and Twitter. There are 4 extremely new features you can have an unlimited fun of this game; the towers can be repaired without your assistance, Revive a ruined tower and take part in the battle again, you can help your army and join the battle yourself and crush the enemy with a blast wave to defend your base.
Price : Free
Requires : Android 2.3.3 and above
Battle Glory

Battle Glory keeps you battle your enemies hard and fiercely. This is a perfect modern combat game you can play at anytime and anywhere. You can create your own fighter planes and wage epic battles against all enemies. Battle Glory has multi leagues and group battles you can clash in every league. It's a great fun and pretty easy to play. Do not wait, download at this moment.
Price : Free
Requires : Android 2.3 and above
We recommend Blackmart Alpha you will see more paid Android games for free.
Live is a game, so let's have fun. If you like our 11 Best Games like Clash of Clans, please share this useful information with your social media such as Facebook or Twitter. Otherwise, you can share some strategies for playing these games, or suggest other games that you think you cannot stop clashing with the comment features below.
advertisements