advertisements

So far, AppCake and OpenAppMkt are two Cydia related articles AppCakeFans covered. With the number of Cydia users rising, we are going to share a step-by-step guide on how to download Cydia on iPhone, iPad and iPod Touch in depth.
Basically, there are various ways to download and install Cydia to an iOS device. Some methods are free while some require you to buy a piece of jailbreak software or a jailbreak service to do it. Of course, most people do not prefer the paid ways. Thus, the free methods are the most popular to download Cydia.
Download Cydia on iOS 8 and iOS 7
In order to download Cydia to the latest iOS 8 or iOS 7.1.2, you will first need to jailbreak your iPhone, iPad or iPod Touch. If you have cash on hand and willing to spend it, you can send your iDevice to a local jailbreak shop and they can jailbreak it for a cost. Instead, you can jailbreak it with a jailbreak program easily without any advanced computer knowledge.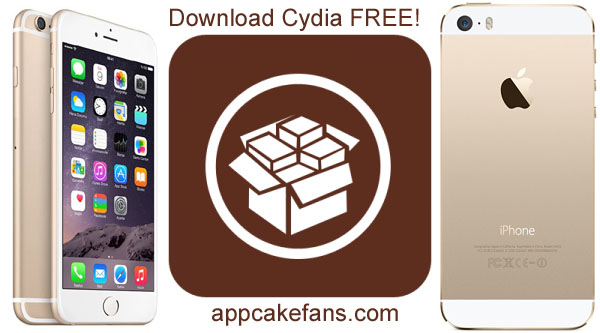 Currently, there are at least 10 jailbreak software available for free but you will only need one that works 100% for all the iOS devices include the latest iPhone 6, iPhone 6 Plus, iPad Air, iPad mini, iPod Touch and others. Among all jailbreak software, Pangu Jailbreak Tool (Pangu.io) is highly recommended. Pangu is free jailbreak software that works on both Windows and Mac platform. This jailbreak tool jailbreak and install Cydia to your iOS device for free. It is compatible with iPod Touch, iPhone 4, iPhone 4S, iPhone 5/5C/5S, iPhone 6/6 Plus, iPad mini, iPad 2, iPad 3, iPad Air and iPad Air 2. To begin the jailbreak and Cydia installer, follow these steps closely.
Step 1: Backup is a must! Backup everything you have in your iDevice with iTunes before you start the jailbreak.
Step 2: On your PC or Mac, go to Pangu.io and download Pangu jailbreak tool. It is free and you don't have to pay a single dime. Download Pangu for iOS 7.1.x if you are doing this on iOS 7.1.2 devices.
Step 3: Connect your iPhone, iPad or iPod Touch to your computer. Launch Pangu and the program will recognize your iOS device.
Step 4: Click on the Restore button and select your iOS firmware. This application will then install a fresh iOS firmware to your iDevice. It will take a few minutes.
Step 5: Now go to Settings -> iCloud -> Find My iPhone / Find My iPad / Find My iPod. Disable this option.
Step 6: Again, go to Settings -> Passcode. Disable the Passcode Lock.
Step 7: Hit the "Start Jailbreak" button in your PC or Mac. Let the program do all the job and you will get a jailbroken device after a few minutes. You may now check out Kuaiyong or vShare to download cracked apps to your iDevice.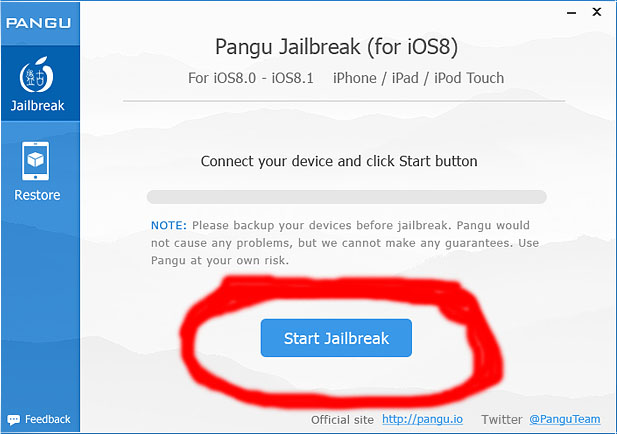 How to Download Cydia for Free
Now you have got a jailbroken device, you need to run a few more steps to download Cydia to it. Follow these steps and you can install Cydia to your iOS 8 or iOS 7 devices for free.
Step 1: Open a web browser, be it Internet Explorer or Safari, go to Cydia's official website and download the latest Cydia DEB file. It is recommended to download the DEB file for iPhone because it can be used for iPad and iPod Touch too.
Step 2: Download one SFTP program to your PC or Mac, Filezilla or Cyberduck will do. Skip this step if you already have it in your computer.
Step 3: Now SSH the Cydia DEB file to your device path /private/var/mobile/documents/.
Step 4: On your iOS device, locate the file and tap on it. Tap Installer among ZIP, Viewer and Unarchiver. Tap Done once the installation process is finished. Restart your Springboard and Cydia logo will be appeared at your homescreen.
That's how you can jailbreak your iPhone, iPad and iPod Touch and download Cydia on it. Isn't it easy than sing a song in high key? Last but not least, you should check out some of the best Apptrackr alternatives to download more cracked apps.
advertisements