advertisements

We recently published an article How to Facetime on Snapchat. Many people have followed the step by step guide and able to use Facetime on Snapchat. Last few days, we receive emails from readers asking how to Facetime on Android. Many Android users would like to know how to FaceTime on Android devices such as Samsung Galaxy Note 5, Nexus 6P, LG G4, Samsung Galaxy S6, HTC One A9, BlackBerry Priv, Moto X Pure Edition, and others.
There are many websites saying you can use Facetime on Android through jailbreak or third-party apps. Unfortunately, we have tried most of them and none of them are actually working. We even tried to look for FaceTime on some of the best cracked apps sites for Android but nothing similar is found. Since there is no way to Facetime on Android, the best thing to do is to pick one of the best FaceTime alternatives and install it to your Android device right away. Any of these alternatives allow you to make free video calls, voice calls, group chat, random chat, or any thing just like FaceTime.
Best FaceTime Alternatives on Android
Here's your delicious list of the five best alternatives to FaceTime on Android.
Google Hangouts
Google Hangouts is considered as one of the best alternatives to FaceTime on Android. This app is able to do anything that FaceTime able to do, for instance, message sending, audio calls, video calls, and group chat. One of the greatest thing about Google Hangouts is that you can use it not just on Android phones or tablets but also on PC, Mac or any other iOS devices such as iPhone, iPad or iPod Touch. The best thing is, Google Hangouts is a free app and it is available in Play Store.
Skype
With so many years in the "Voice over the air" market, Skype is one of the pioneer in providing chatting and calling services that last until today. In 2011, Microsoft bought over Skype and it is now a default messaging app on all Windows Phones (Top 10 Best Free Windows Phone Apps). Skype is free for all Android users. It allows you to make one-to-one voice or video calls to any friends in your list. It is also a cross-platform app where you can use it on both mobile and desktop devices.
LINE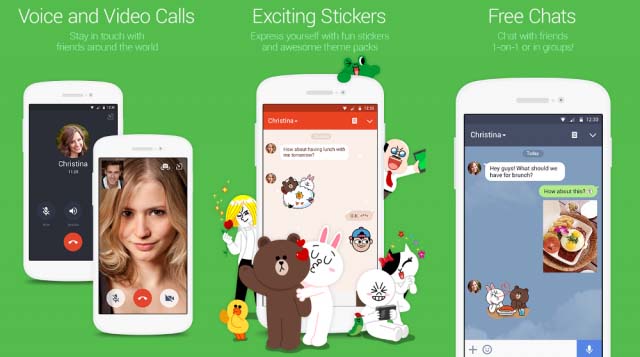 LINE is not so popular in the United States and United Kingdom compared to Asian countries such as Japan, Thailand, Singapore, Malaysia, and Vietnam. However, there is still a percentage of users in America due to the special features such as the unique LINE Stickers. Sometimes, a sticker says a thousand words when you are out of words. As for the sound quality of the audio and video calls, it is close to perfect! Again, LINE is also a free app and you can use it on Android, Windows PC, Mac or iOS devices.
Viber
By 2016, Viber has more than 600 million users worldwide. Other than English, Viber is also made available in different languages such as Italian, Japanese, French, Spanish and others. Check out Viber from App Store, Play Store, and Windows App Store. You will see many positive reviews about this app. Just like FaceTime, Viber is a free app which allows its users to make free calls from your mobile device or desktop (Windows or Mac) to other mobile devices or desktop. On the other hand, there is also a paid version available where you can make calls to non-Viber devices.
JusTalk
Last but not least, JusTalk is a great alternatives to FaceTime on Android. With JusTalk installed, Android users are able to make free video calls, voice calls, group chat, and many other things just like FaceTime. On top of that, JusTalk allows you to use Doodle in chat as well as playing games during video calls. You can draw anything you like and send it to your friends too. To download JusTalk on Android, go to Play Store and search for it then you will see many Android users rate this apps as a 5-star app.
Other FaceTime altnernatives: WeChat and WhatsApp
The above are the top 5 best alternatives to FaceTime on Android. If you are able to find a way to use FaceTime on any Android device, please do not hesitate to share it here. There are many people wondering how to FaceTime on Android.
advertisements