advertisements

There are a few great ways to perform screenshots on an Android phone. You are reading the right page if you are wondering How to Screenshots on the Galaxy S4 and Galaxy S5. Here we will share two wonderful methods that work very well on any Android device. The first method is universal and you can take screenshots on any Android phones as well as tablets but the second method is particularly made for the Samsung Galaxy S4 and S5 only. Therefore, if you own the Galaxy S4 or S5 mobile phone you should try to follow our step by step guide and learn the skills, supposing that you are wondering how to do a screen capture.
For those who would like to practice how to take screenshots on the Galaxy S4 and Galaxy S5. Drop your worry and take it easy sweet as you are playing games like Candy Crush Saga. You no longer need to spend a single dollar for any screenshot apps. Once you get it in this tutorial, you will identify how simple to capture screenshots on the Galaxy S4 and S5 for free.
Samsung Galaxy S4 Screenshot Method 1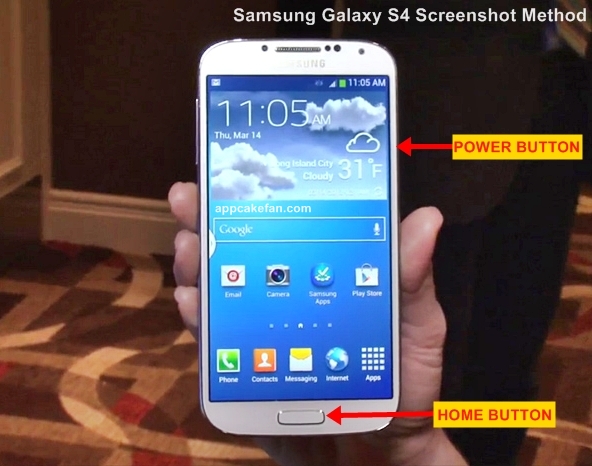 Power + Home capture:
Press and hold the Power button and Home button, hold the two buttons at the same time. Wait for a second until you hear the camera shutter sound you will absolutely get the screenshots you fancy.
You probably want to find the screenshots on your Android device. The screenshots will be stored under My Files/Device storage/Pictures /Screenshots. Moreover, you can get your screenshot in the drop down notification bar.
This is very simple method and you can take screenshots on the Galaxy S4 anywhere, anytime you want and share it with your friends on Facebook or other social network.
Related: How to Screenshot on HTC One
Samsung Galaxy S4 Screenshot Method 2
Palm swipe capture:
First, you must check the setting "Palm motion" is enabled. You can go into the Setting menu/My device/Motions and gestures/Palm motion.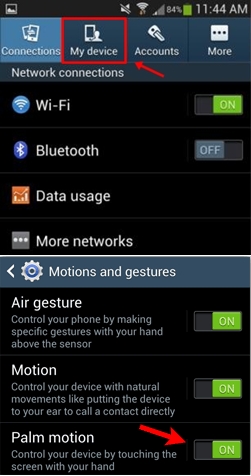 Ready? Go! Start captures the screen by swiping your palm over the screen from right to left otherwise from side to side. You will quick and easy to screenshot on the Samsung Galaxy S4 and find this trick that works well with your Android device. Please refer to the animation file above. Follow it closely until you get used with the Palm motion available on Samsung Galaxy S4 and Galaxy S5.
The method 2 above works the same for Samsung Galaxy S5. Thus, it is not necessary to learn other method if you want to know how to take a screenshot on the Galaxy S5. This is because the same methods will work on the Galaxy S4. You can try these two methods to capture the screenshots on the Galaxy S5 even it comes with a bigger and better screen. It's not that complicated even you're a new Android users. We hope you will enjoy and find this article helpful.
Please leave a comment or question here if you face any problem with the screenshots on your Samsung Galaxy S4 or S5. Both of these methods have been tested at least 100 times and it works flawlessly. Also, please do not hesitate to share us any new method to take a screenshot on the Samsung Galaxy S4 or S5 if you find one. Lastly, you are welcome to share this article to your social networking site such as Facebook, Twitter, LinkedIn, Pinterest, or any other websites if you find it useful and interesting.
advertisements