advertisements

Here you can download the best Sega Genesis emulator, Sega Saturn emulator, and Sega Dreamcast emulator. These Sega emulators allowed you to play any Sega Genesis games on Mac, PC, Android, Windows phone, and iOS devices such as the iPhone, iPad, and iPod Touch. The installation is very easy and it won't take you a lot of time to set up on your computer or the mentioned devices. For those who are crawling for the best games they used to play with Sega Genesis, Sega Mega Drive, Sega Saturn or Sega Dreamcast console, the information here will be very useful to you.
The first Sega Genesis, also known as Mega Drive, was a 16-bit system. It was one of the best arcade game consoles in late 80s and early 90s. In 1994, the console was spiced up with a 32-bit extension which is known as the Sega 32X. After that, Sega launched the Sega Saturn which was Sega's first CD console with two 32-bit processors in 1995. Three years later in 1998, Sega released its final console, the Sega Dreamcast. People who owned a Sega Dreamcast must be remember the Alien Front Online because it was the first console game from Sega with online voice chat.
No matter which Sega console you used to own, now you stand a chance to download any of these emulators as well as the ROM and play it on a computer, Mac, Android, or iOS device. Sega Genesis tends to have more option compared to the Nintendo Gamecube emulator.
Fusion Emulator
Download Fusion Sega emulator right away and play the best Sega Genesis games on your computer if you are lazy to go through the rest of this list here. Fusion, also known as Kega Fusion, is currently voted as the best SEGA emulator because it is a multi system that allows you to load MasterSystem ROM, GameGear ROM, Sega Genesis ROM, Sega 32X ROM, and SegaCD Image. Besides, Fusion also allows you to play games from Sega Saturn and Sega Dreamcast.
Download Fusion Sega Genesis Emulator for FREE

Screenshot of Fusion Sega Genesis emulator – The Popular Street Fighter Game
Gens Emulator
Gens has been developing game emulator for a long time and it works best on Windows platform, Linux, and also Mac. It is one of the best emulators for Sega Gensis and Mega Drive of all time. Gens was released in 2006 and it is a freeware to play Sega Genesis games on Windows 8, 7, Vista, as well as Windows XP.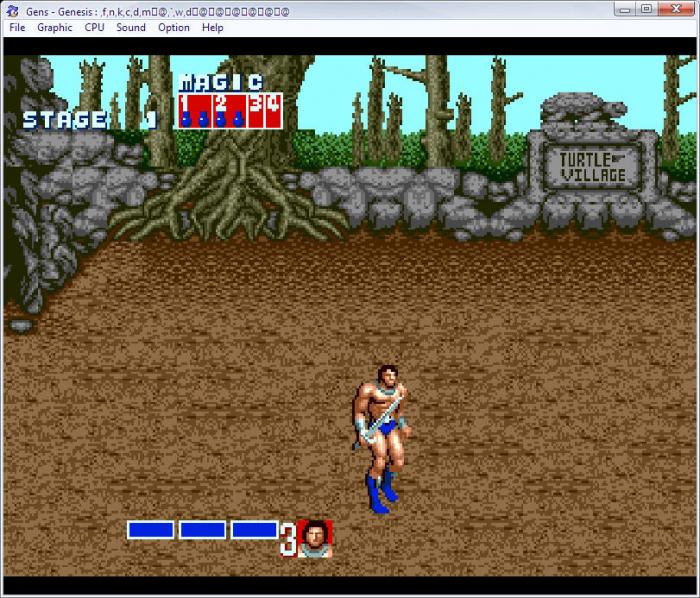 Gens Plus! Emulator
If you like Gens and would love to have something even better, you can try Gens Plus!. Gens Plus! is also known as the Sega Retro where is this emulator comes with many optimizations and special features such as the new software graphic filters and new sound effects. Open a new browser and go to Segaretro in order to download Gens Plus! for free.
Download Gens Plus! for FREE
Gens32 Emulator
Gens32 is yet another souped up version of Gens emulator. The developers supercharged Gen32 based on the original source code of Gens by adding many additional functions and features. Just like Gens, and Gens Plus!, you can download Gens32 from SegaRetro website for free.
Genecyst Emulator
When it comes to Sega Mega Drive emulator, Genecyst is another option offered by SegaRetro. Genecyst is no longer updated and considered an old emulator but it is good for people who would like to play Sega Genesis games on older CPUs.
Genesis Plus GX Sega Genesis Emulator for Mac
Genesis Plus GX is an open-source Sega 8/16 bit emulator. Anyone can download the source code, modify, and contribute to make this software better. This application works not just for Sega Genesis but it also works as Nintendo Gamecube, Master System, Game Gear, SG-1000, and Sony Wii emulator. You will love the interface of Genesis Plus GX because of the high quality graphic and sound effect. On top of that, you can set your keyboard configuration within a few clicks. Genesis Plus GX works on Windows platform as well as Mac.

Screenshot of Genesis Plus GX
AGES Emulator
AGES is a great alternative for Windows users who want a Sega Genesis/Mega Drive, Sega Mega-CD, 32X, Master System, and Game Gear emulator for PC. The developer emphasize on speed when they are developing this software. Therefore, it is one great option for people who want to play the Sega Mega Mouse, Teamplayer Multitap, Electronic Arts 4 Way Play, Menacer, Konami Justifier, or other similar Sega Genesis games.
RetroCopy Emulator
In the early 90s, we don't have much 3D games for Sega but now you can play it with RetroCopy emulator. RetroCopy is one awesome emulator that comes with custom 3D interface for the Sega Genesis, Sega Master System (SMS), GameGear, Media Player, and Arcade system. Such 3D features make RetroCopy one of the best Sega genesis emulator available online. Give it a try and you will not regret it. It works flawlessly on any Windows. Go to RetroCopy official website and you can download this emulator for free.
RetroDrive Emulator
RetroDrive is one of the earliest Sega Genesis emulators. It was formerly known as GENSX and VEGAS. The first version was released in 2003. RetroDrive does not come with many of features but it is worth to give it a try if you are looking for alternatives.
HazeMD Emulator
Try HazeMD Emulator if you want a full function Sega Genesis emulator that works like the Genesis console. HazeMD is specially designed in a way that gives its user the best experience to play Sega Genesis games on PC. The developemend has been discontinued but you can still download the rar setup file online for free.
DGen/SDL Emulator
DGen/SDL is an open-source, free Sega Genesis emulator. This emulator is very powerful as it allows you to play some Sega Genesis games that other emulators don't, for example, the famous Streets of Rage. Download DGen/SDL and you can play this game for sure. It takes less than 10 seconds to download the 4.2 MB setup file.
Download DGen/SDL Sega Genesis Emulator for FREE
Regen Emulator
Regen is one Sega Genesis emulator that has the best compatibility level. The compatibility is almost 100% for all licensed Sega Genesis games. As for the accuracy, this system emulates a game from first to the last detail. In order to make everything correct, it comes with a Linux port too. This means you can run Regen emulator on Windows, Linux, or Mac. Some Regen users send a feedback saying that Regen actually runs more accurate than the famous Fusion emulator.
Download Regen Sega Genesis Emulator for FREE

Screenshot of Regen SEGA emulator running Quack Shot starring Donald Duck
These are the top 12 best Sega Genesis emulators of all time. Whether you are satisfied with it or you found a glitch in the system, you are welcome to leave a comment here.
advertisements