advertisements

It takes less than 5 minutes to download and install WhatsApp on Windows phone from Windows Store but there are still many smartphone users are wondering how to download WhatsApp on Windows phone. This is because some people are not using the latest Windows phone 8 or 8.1 version. It is recommended to update to the latest Windows 8.1 if you would like to use the full features of your Windows phone. For those who already using the latest Windows phone 8.1, you may follow the guide below to install WhatsApp on your Windows phone. It is free to download and use WhatsApp so you don't have to pay a single dime.
What is WhatsApp
WhatsApp Messenger or simply WhatsApp is a cross-platform messaging app that allows a smartphone user to send text messages, photos, videos, voice messages or call friends from their device. It requires an internet connection or Wi-Fi connection in order to function. There is no additional fee and no international charges except your phone's internet connection (4G/3G/2G/EDGE) in order to stay touch with your friends and family all the time. It has been around for many years and it is regarded as one of the best replacement for SMS services.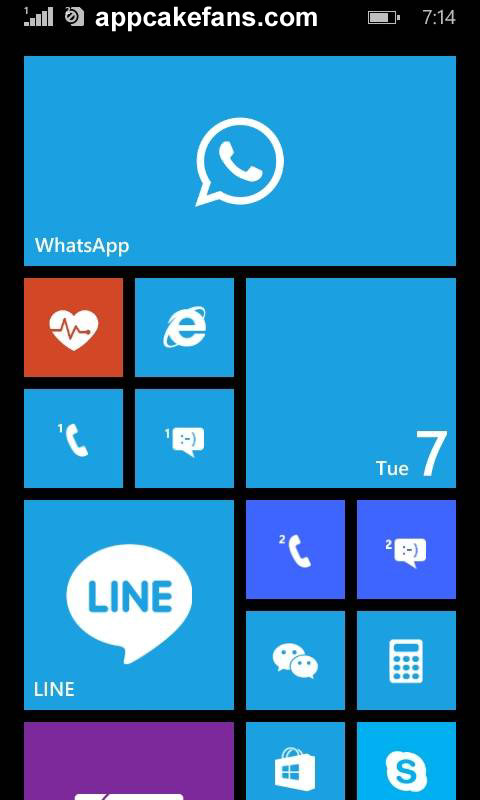 Guide to download WhatsApp on Windows Phone
The step by step tutorial here will lead you to download WhatsApp on all kinds of Windows phone such as Nokia Lumia 520, Nokia Lumia 630, Nokia Lumia 635 and more.
Step 1: Open an Internet Explorer from your Windows phone and go to this link. Alternatively, tap on the Windows Store icon (Windows Market Place) and access to it then search for WhatsApp.
Step 2: Tap on the Install button to download Whatsapp on Windows phone. It is free for the installation.
Step 3: Wait for a few minutes and you will be able to see WhatsApp icon appear on your homescreen or app list. Tap on it to open it.
Step 4: Go through the Terms and Conditions and agree to them by tapping the Next button.
Step 5: Enter your phone number together with your country code. A verification code will be sent to your phone by SMS or voice within a few seconds. Sometimes it takes few minutes if the connection is slow.
Step 6: Enter WhatsApp verification code to the text box and you are done. You are now ready to use WhatsApp on Windows Phone. Try to make calls, send text messages or join the group chat that created by your friends or family. The fun has just begun!

Screenshot of WhatsApp on Windows Phone (Nokia Lumia 630)
The steps to install WhatsApp for Nokia Symbian and WhatsApp for Nokia S40 are slightly different. Please refer to our previous article how to download WhatsApp for Nokia for detail guide.
Common Problems Installing WhatsApp for Windows Phone
Although it sounds very easy to install WhatsApp for Windows phone, some people do face some problems during the installation. For example:
"there has been a problem completing your request. try again later. error code: 80070490" – If you see this error, it usually means your Windows version not allow you to run WhatsApp. You can either upgrade it to the latest Windows 8.1 or install an older WhatsApp version. Otherwise, you can download WhatsApp APK and use the manual way to upload it to your smartphones through a USB cable.
WhatsApp downloaded but it can't be opened; WhatsApp crashes during open; WhatsApp icon is there but nothing happens. – In these cases, check and see if you are using a Java-based phone such as Nokia S40, if so, please refer another tutorial for the installation.
See also: How to Jailbreak Windows Phone
Last but not least, if you have a better guide on how to download Whatsapp on Windows phone, please share it out with the comment below. All the Windows phone owners will thank you for your precious information.
advertisements