advertisements

Do you want free Facebook credits? Do you want to earn some extra cash by doing a very simple thing? If so, you need to download Appdog app. Appdog is an app that allows any iOS or Android users to earn Facebook credits and cash by trying iOS or Android apps. Often, these apps are the paid one but you can also earn credits and cash by trying free apps on your iPhone, iPad, iPod Touch, Windows phone, or any Android devices. If your daily hobby is to try on new apps, Appdog is one app that you can't overlook!
By installing AppDog to your iOS or Android device, you can start to earn incentive by downloading and trying new smart phone apps. Basically, there are three ways to earn virtual currency through AppDog. Downloading and opening an app is one of the easiest ways to earn incentive from AppDog. How many hours it takes to download and open an app? Not hours, it takes only a few minutes to do it! Besides, downloading an app and completing some action in the app is another way to earn credits with AppDog. On top of that, AppDog users can also earn money or Amazon gift voucher by completing an affiliate offer, for example, sign up for a program or something.
How to Earn Free Facebook Credits from AppDog
You cannot create account with AppDog if you plan to do this with a Mac or PC. Thus, you have to follow the tutorial here by using only an iPhone, iPad, iPod Touch, Windows phone, or any other Android devices.
Step 1: Connect your smart phone or Android device to the internet. Open a web browser (it can be IE, Chrome, Safari, or anything) and go to Appdog official website which is get.AppDog.com.
Step 2: Tap on the download link and you can install AppDog right away.
Step 3: AppDog will now ask for your permission to publish some stories to your news feed.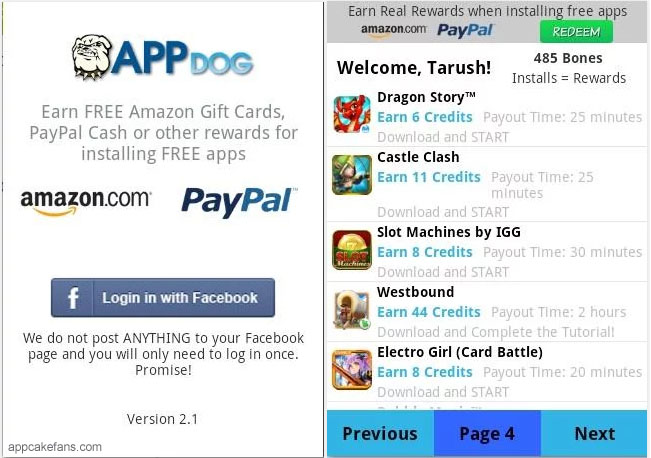 AppDog Screenshot
For those who access the website from a desktop or Mac, you will need to enter your email address or mobile phone number. AppDog will then send a download link to your mobile device and you can register your device through Facebook.
Look for free apps? Try Wandoujia or AppBrain.
There is no need to get the hack version for AppDog because it is a free app. Anyone can create an account with AppDog legitimately as long as you are over 18 years old. Also, there is no need to find AppDog cheat because this app comes with very secure feature to protect their clients which are the app developers.
People who stick with their smart phones should really appreciate AppDog because it is one legitimate way to earn free Facebook credits as well as cash. The requirement to earn this kind of easy money is pretty simple, all you need is an iOS device such as the iPhone or an Android device. In a nutshell, if you are a huge fan of mobile apps and you need Facebook credits, AppDog is one safe app that worth your time. Alternatively, you can try some other Android apps that pay you money such as AppBounty if you don't like AppDog.
Have you ever used AppDog before? Are you using AppDog? If so, please leave a review with the comment features below. Let us know if it is worth your time.
advertisements