advertisements

Android users stand a chance to enhance their Android devices with cool wallpapers and backgrounds. There are thousands of wallpaper apps available in the Play Store but here we have sorted the top 5 best free Android wallpaper apps for the best experience. These free wallpaper apps easily make you discover beautiful wallpapers from diverse locations from around the world.
You should start refreshing your Android home screen while you can install and download Android wallpaper apps for free. Furthermore, all the apps are available on Google Play Store. This may interest you 10 best free Android live wallpapers apps.
Let's check it out 5 best free Android wallpaper apps the following.
HD Wallpapers for Android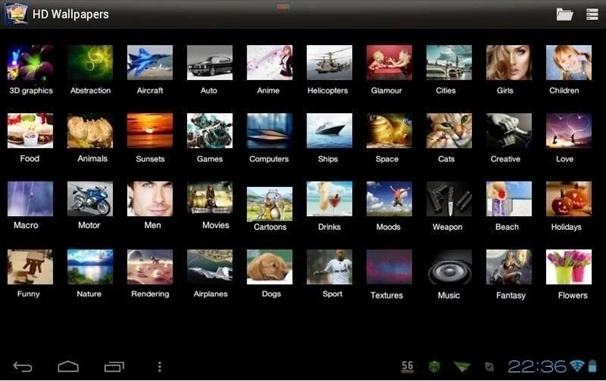 HD Wallpapers for Android is one of the best free Android wallpaper apps. You can choose over 50,000 HD wallpapers from 39 categories; 3D graphics, Beach, Cities, Cats, Games, Love and more. This app provides high quality wallpapers and it gives a fast loading experience to you. You can see the newest wallpapers updated almost every day. It is easy to save the wallpaper to your Android home screen. You can choose the picture and click on to set up the wallpaper and you can also choose the background color you want. Love it!
Price : Free
Requires : Android 2.1 and above. You can download from AppCake for free.
Backgrounds HD Wallpapers 40M+
If you're looking for new wallpapers and images that gives your Android phone or tablets a fresh look every day, try the Background HD Wallpapers. The Backgrounds HD Wallpapers offers you thousands of free wallpapers from artists around the world. Up till today, it has 40+ million users downloads worldwide. You can personalize your home screen and choose your favorite wallpapers from over 5,000 wallpapers and 30+ categories. Explore the popular image – all time, monthly, weekly, daily. You can save the images to your album, crop and set wallpapers to fit your home screen or share your favorite wallpapers to friends and people around the world via Facebook, Twitter, Instagram, Line, Wechat, Whatsapp and more.
Price : Free
Requires : Android 2.3 and above
ZEDGE™ Ringtones & Wallpapers
ZEDGE™ Ringtones and Wallpapers is the most excellent app you should have on your Android devices. It comes with a variety of free wallpapers, ringtones, and games you may like to play within one app. There are amazing features in ZEDGE™ that make you enjoy searching wallpapers from categories. You can simply set for automatically changing wallpapers and download ZEDGE™ widget for your convenient. Sharing is caring, you can share whatever you like via social apps with people all over the world.
Price : Free
Requires : Android varies with device
Cool Wallpapers HD
Cool Wallpapers HD is an awesome wallpaper app. You can get everything you want from this app for free. More than 100,000 Collections and 61 categories available in this app and you can select the best and popular wallpapers updated daily. There are many features and it is easy for anyone to search a wallpaper by using keywords. On the other hand, you can view all images by slideshow, add effects and personalize, save these cool wallpapers to the gallery, email and share via Facebook, Twitter or Email.
Price : Free
Requires : Android 2.3.3 and above. Alternatively, you can download Appdroid and get the APK of this app for free.
Premium Wallpapers HD
Over 5 million users are using the Premium Wallpapers HD. With so many downloads, it is without doubt the most beautiful wallpaper apps. There are more than 25 categories, for instances, animals, anime, cars, city, fantasy and many more. You can choose new images over 15,000 beautiful wallpapers and they are all in HD quality. Moreover, the number of wallpapers are adding almost everyday. You can also edit the blur or brightness, crop and resize image and save wallpapers on your SD card. Hope you will enjoy this great app all you like in one place.
Price : Free
Requires : Android 2.3 and above
We recommend: Blackmart Alpha – you can download paid apps for free.
From now onward you can simply find the best wallpapers you want from our 5 best free Android wallpaper apps. It's easier to change your Android Smartphone into a new beautiful stylish look with all the apps. However, if you have a better option to find free Android wallpaper apps, please do not hesitate to use the comment function below to share your opinions.
advertisements